Morin Diesel Becomes a Cummins Generator Dealer: Enhancing Reliability for Our Customers
Monday, November 13, 2023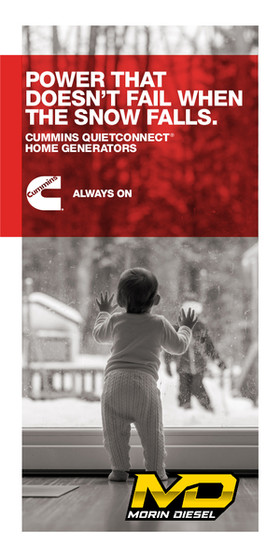 At Morin Diesel, our commitment to providing top-quality power solutions to our customers has always been our driving force. We are thrilled to announce a significant development that strengthens our ability to deliver reliable and efficient power generation solutions: Morin Diesel is now a Cummins generator dealer. This exciting partnership represents a major milestone in our journey to provide our customers with the best-in-class products and services. In this article, we'll explore what this partnership means for you, our valued customers.
Cummins: A Trusted Name in Power Generation
Cummins is a globally renowned leader in power generation technology. With a legacy spanning over a century, Cummins has earned a reputation for producing dependable and innovative power solutions across a range of industries, from residential to industrial and beyond. Their commitment to excellence aligns seamlessly with Morin Diesel's own dedication to delivering quality and reliability.
Enhanced Product Portfolio
As a Cummins generator dealer, Morin Diesel now has access to an expanded portfolio of cutting-edge power generation products. Cummins generators are known for their durability, efficiency, and advanced technology. Whether you require standby power for your home, backup power for your business, or a comprehensive solution for industrial applications, Cummins offers a wide range of generators to meet your specific needs.
Unparalleled Expertise
One of the key advantages of our partnership with Cummins is the access to their extensive technical expertise and support. Cummins has a global network of service professionals and engineers who are experts in power generation. This means that when you choose Morin Diesel as your Cummins generator dealer, you gain access to a wealth of knowledge and support that ensures your power needs are met with precision.
Reliability You Can Depend On
Cummins generators are renowned for their reliability. They are designed to provide seamless power during critical moments, whether it's keeping your home lit during a blackout, maintaining essential operations at your business, or supporting mission-critical processes in an industrial setting. With a Cummins generator from Morin Diesel, you can trust that you have a dependable power source when you need it most.
Customized Solutions
At Morin Diesel, we understand that every customer's power generation needs are unique. With our expanded Cummins product portfolio, we can now offer even more customized solutions tailored to your specific requirements. Whether it's sizing a generator to meet your power demands or selecting the right features and technology for your application, we have the expertise to create a solution that fits like a glove.
Service and Support
Our commitment to exceptional customer service remains unchanged. As a Cummins generator dealer, we continue to provide the same level of dedicated support and maintenance services that our customers have come to rely on. We are here to ensure that your Cummins generator operates at peak performance throughout its lifespan.
Conclusion
Morin Diesel's partnership with Cummins as an authorized generator dealer represents a significant step forward in our mission to provide top-quality power generation solutions to our customers. With access to Cummins' industry-leading products and expertise, we can offer an even wider range of reliable and efficient power solutions customized to your needs. When you choose Morin Diesel, you are choosing a commitment to excellence and a partner you can rely on for all your power generation requirements. Experience the difference today and discover how our Cummins generators can empower your world.